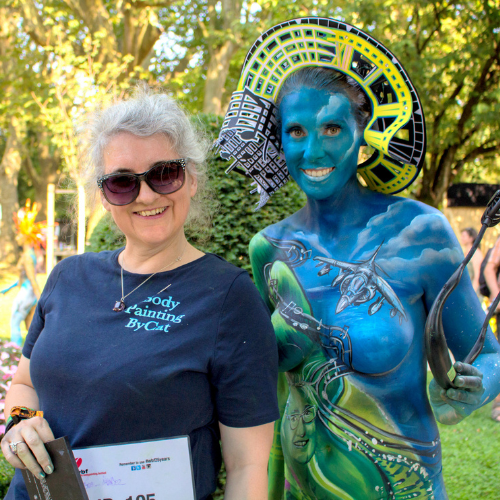 Cat Finlayson
Cat Finlayson discovered face painting whilst teaching in zoos. After starting her own face art business in 2000, she won UK Professional Face Painter of the Year and was 5th in the World, and then branched out into bodypainting. She was soon booked all over the world, including Hong Kong, painting clients, teaching or demonstrating, and was one of the UK's first full-time residential face painters.
She became Paintopia's lead artist and tutor, and with Paintopia's Jennie Roberts (or her own company) judges, or teaches privately, at industry events, and in colleges around the UK and EU. Over the last few years she has also added Cricut Ambassador & Artisan to her impressive list of job titles, as she finds the machine frees her creativity and is involved in most aspects of her body art.
She placed 10th at this year's World Body Paint World Championships, in the Brush and Sponge Paint category, painting on model Izabela Kowalewska.